Greeting・Official introduction
Message from the President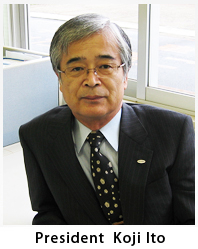 The International Polyurethane Technology Foundation was established in 2014 as Japan's first research grant foundation targeting the polymer chemistry, of which polyurethane is the core part.

Recently, the polyurethane industry is expected to contribute significantly to industrial growth through diverse development. At the same time it has been facing various environmental issues including safety, cleanness, ecology, and energy savings. Therefore, the entire industry must meet social requirements and issues such as global environmental conservation.

Aiming to help researchers engaged in studies in polymer chemistry and related fields with their research activities and thus contribute to academic development, we strive to conduct support activities to help further develop research on polyurethane and foster human resources for future development in the polyurethane industry.

Officers roster
Officers roster
Name
Position
Trustees
Soichi Inoue
Chairman & CEO, INOAC Corporation
Trustees
Masao Inoue
Professor emeritus at University of
Electronic-Communication
Trustees
Chuya Kato
Professor emeritus at Mie University
Trustees
Shinji Inagaki
Aichi Institute of Technology
Professor emeritus and Advisor
Trustees
Kenji Urayama
Professor at Kyoto Institute of Technology
Trustees
Takao Hidai
Former Director, INOAC Corporation
President
Koji Ito
Director, INOAC Corporation
Directors
Mutsuhisa Furukawa
Professor emeritus at Nagasaki University
Representative at Nagasaki Polyurethane
Technology Research Center
and Polyurethane Research Group
Directors
Eisuke Yamada
Vice-president, Aichi Institute of Technology
Special appointment professor
Directors
Hiroshi Uyama
Professor at Osaka University
Directors
Bungo Ochiai
Professor at Yamagata University
Directors
Iwao Ishino
Professor emeritus at Nagoya University
Directors
Kikujou Yamasita
Former director at Nagoya Municipal
Industrial Research Institute
Directors
Toyohiko Okina
President, INOAC Corporation
Directors
Kenjiro Miwa
Representative Director, INOAC Corporation
Directors
Shintaro Ideta
Judicial Scrivener
Auditor
Kenji Tamazawa
Certified Public Accountant
Auditor
Keisuke Umemura
Certified Public Accountant